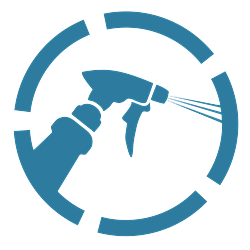 update: October 2017
Treating pet messes and pet urine is not a big deal when you have a suitable spot carpet cleaner. Although there are about over 20+ portable versions, there are a few spot carpet cleaners for pet stains as they have some exclusive features which are all optimized for cleaning stains easily.
BISSELL Spotbot Pet Handsfree Spot and Stain Cleaner with Deep Reach Technology, 33N8A
This is a rare spot carpet cleaner which has automatic feature, meaning that you can set the machine on the stain and walk away, the machine will clean the stain by itself. Therefore, it is very convenient and time saving for cleaning pet stains because you don't want to spend time holding the machine if you are so busy at home.
This Bissell Spotbot has a 3 amps motor rating which is similar to most of Bissell portable carpet cleaners like Bissell Proheat or Bissell SpotClean, which guarantees to have sufficient cleaning power over the stains.
Rug Doctor Portable Carpet cleaner
Rug Doctor Portable carpet cleaner is a professional portable unit which is great for all cleaning purposes such as stains, upholstery, stair and food spillage. It has handle and carpet friendly wheels which will not leave any mark on the wet carpet. The greatest part of this unit is that it has a powerful motor which is similar to upright carpet cleaner (10 amps. rating). With such kind of power, you can basically suck up any stain and sediments on the carpet. Besides, Rug Doctor is a premium brand which has been on the market for 40+ years so you don't worry about getting junk and waste money.
Hoover Spotless Portable carpet cleaner FH11300
The newly released spot carpet cleaner from Hoover is also highly recommended for pet stains because it is affordable, ergonomic designed and packed with new technologies which will ensure your carpet cleaner will have longer life time (self-cleaning technology). To tackle the stain this unit has a pre-treat gel in the package so you do not need to buy cleaning detergent separately.
Bissell Pet Stain Eraser
Bissell 3624 SpotClean Professional Portable Carpet Cleaner
Bissell 3624 SpotClean Professional Portable Carpet Cleaner is the ultimate "all in one" portable model which has been rated as one of the best portable units over years. This unit is somehow similar to Rug Doctor Portable carpet cleaner in terms of design, performance, and price, therefore, choosing which one mostly depends on the brand attraction.
10bestcarpetcleaners.com