Last Updated on
Hoover FH11300PC Spotless is a popular choice for stain cleaning
last update: 16th June 2019
Summary
Hoover FH11300PC Spotless Portable Carpet & Upholstery Spot Cleaner will be our first choice when talking about portable carpet cleaner for this year 2018 because it is a superior portable unit that can clean perfectly upholstery, stair, pet stains, couch, recliner, mattress, auto-detailing and more.
The machine has advanced features such as auto hose cleaning, antimicrobial materials are used for the hand tool combined with a strong motor (3.5 amps).
Interestingly, its price is cheaper than rivals so it can be the best portable carpet cleaner in terms of performance and price value.
Hoover spotless is featured as one of the best spot carpet cleaner for pet stains.
Introduction
The Hoover FH11300PC Spotless Portable Carpet & Upholstery Spot Cleaner is the new released portable carpet cleaner model from Hoover. Hoover has been renowned in the cleaning industry for decades and most of the carpet cleaner is upright design. Until now, Hoover has developed this spotless portable carpet cleaner to widen their product ranges.
The Hoover spotless portable unit is highly recommended for you if you are looking for a compact portable unit to treat small accidental stains, pet messes and urine. If you want to clean the whole room or bigger area, you might need a full-size carpet cleaner.
What makes Hoover spotless portable carpet cleaner specials
This portable carpet cleaner has several new technologies that others don't such as the self-cleaning hose (Bissell, Rug Doctor don't have such feature now) after using which will clean the whole machine and its hose automatically so it won't be smelly. It is portable, lightweight with small footprint so you can store easily. At the moment, the Hoover FH11300PC spotless portable carpet cleaner price is very affordable.
Other highlighting features that make everybody love this Hoover FH11300PC spotless portable carpet cleaner include
Good motor delivers great suction, giving the carpet dried after cleaning in a short time
It works quiet than Bissell model (mentioned by users)
Although it does not hold much water but it is very efficient in water usage therefore you can clean a lot of messes even with just a small tank
Compact design

, you can store it in a very small place
The brush is an excellent stuff because it actually goes dip down to the carpet foundation to remove hard stains
No leaking at the hose end (this is superior to others on the market. While Bissell Spotclean is occasionally reported with leakage issue, this will not be a problem with Hoover Spotless Portable unit)
And last but not least, it has an automatic shut-off feature when the dirty tank is fully filled. You won't mess up the carpet again.
Features and construction of Hoover spotless portable carpet cleaner
Like other portable carpet cleaner from other brands such as Bissell Spotclean Professional or Rug Doctor Portable, this Hoover spotless portable carpet cleaner have quite similar cleaning benefits such as it is optimized for cleaning small area, spot cleaning and upholstery cleaning. Therefore, it will come along with a set of cleaning tools which are antimicrobial so you will find it easier to clean than others.
The machine has 2 water tanks so you can clean, empty and fill the water easily. The Hoover spotless portable carpet cleaner is also fully assembled, so you will not need to worry anything about technical installations.
Compared to others, the Hoover spotless portable carpet cleaner has two new features that make it special they are self-cleaning technique and antimicrobial tools which seems to be beneficial and more advanced than its peers.
Cleaning results of Hoover FH11300PC spotless portable carpet cleaner
About the cleaning results and drying time, this Hoover spotless portable carpet cleaner is comparable to Bissell Professional Spotclean and Rug Doctoc Portable carpet cleaner.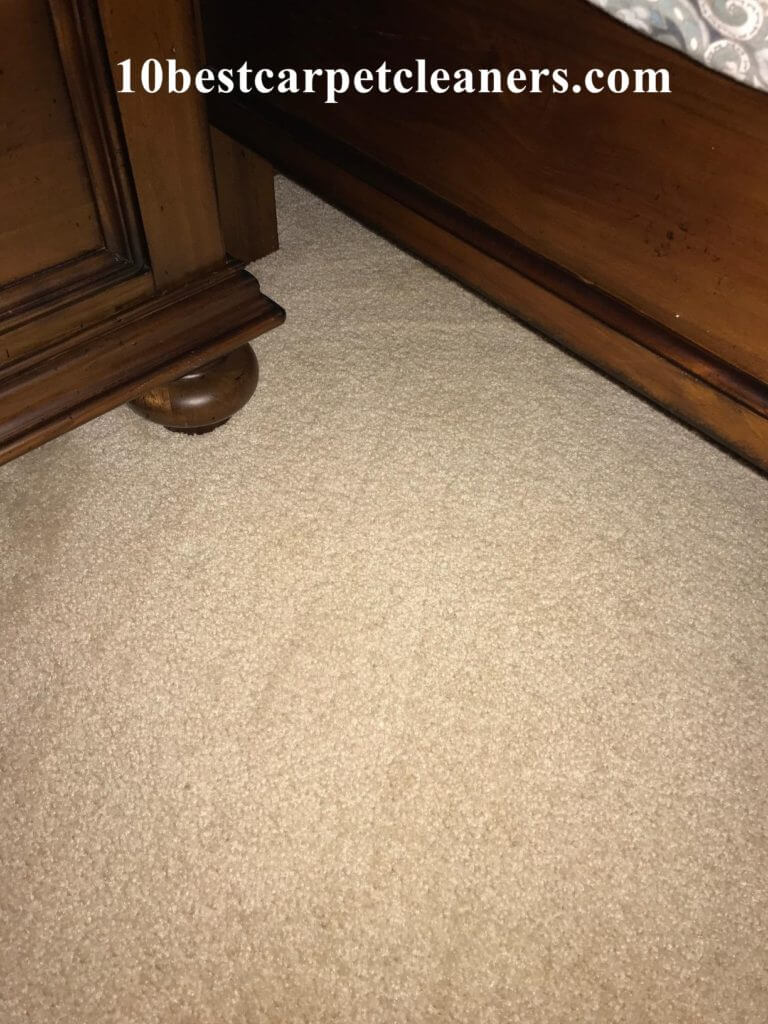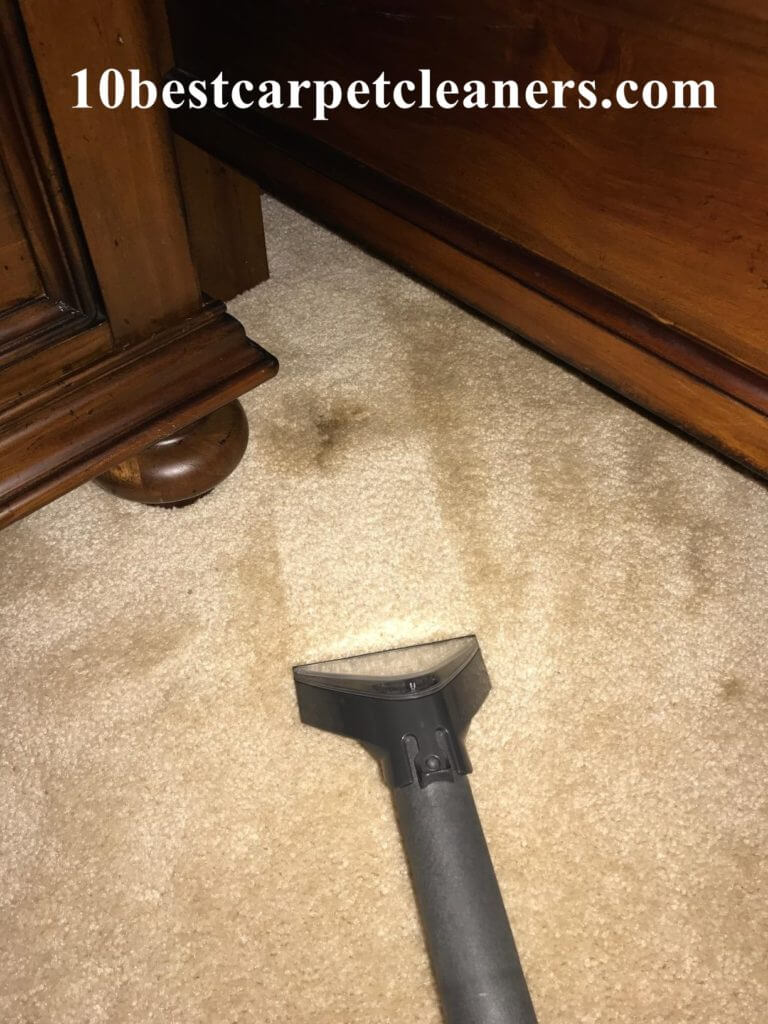 Ease of use
Super easy since it is an assembled machine so you wont need to do any installation, just put the cleaning tool and plug it in and it is ready to clean then.
Pros and Cons of the model
Pros
Self-cleaning hose to reduce the smell
Powerful cleaning motor
No leak when using or shut off
Filling the tank is easier than Bissel in shallow sinks, but the Hoover designers should have made the tank face square so it could rest flat as you add the cleaner.
Allows for disassembly which makes cleaning the unit much easier
The sprayer angle is narrower than Bissel, so less overspray.
Cons
It is a portable carpet cleaner so it is only for small area cleaning
Customer reviews on the Hoover FH11300PC spotless portable carpet cleaner
The Hoover FH11300PC spotless portable carpet cleaner is a new model but it has gained a lot of positive reviews from users nationwide.
This little machine works very well. This is one of the best portable spot cleaners out there.
I have used multiple portable cleaners from other companies including the Bissell Little Green Proheat and the Bissell Spotclean. In terms of function, all of the products put down cleaning solution and provided adequate vacuum for retrieval.
The reason why this cleaner is a better product is the longevity.
Conclusion
This Hoover portable carpet cleaner possesses a powerful cleaning motor, giving excellent cleaning results with simple design and advanced technologies for cleaning and maintenaince. If you are dealing with spot cleaning, pet mess cleaning on daily basis, this model will be a life-saver.
Questions and Answer of Hoover Spotless Portable Carpet Cleaner
Can Hoover Spotless work well for pet stain?
Hoover spotless has a generous motor power (3.5 amps. which can be the strongest among portable models on the market). Therefore, it can easily tackle pet stains and urine. When you clean the pet urine, remember to use the suitable cleaning formula to have a better result.
Can Hoover Spotless work for auto-detailing
Hoover spotless portable carpet cleaner is a good option even when you want to do auto-detailing because its design is slim and lightweight so you can bring to your car for cleaning upholstery. You can use the hand tool for this purpose.
Can Hoover Spotless use for carpet cleaning?
Hoover Spotless is a portable unit, meaning it is suitable for cleaning small areas, upholstery, stair, and stain. If you need to clean a small room, let's say 4m x 6m, which is not much dirt there, you can try Hoover Fh50150 which is the best "all-in-one" model
Is Hoover Spotless an automatic model?
No, if you are looking for an automatic carpet cleaner that you can set and go away, then Bissell Spotbot is the only option on the market.
Does Hoover Spotless have internal heater?
Hoover Spotless does not have a built-in water heater, but still, it cleans perfectly a lot of carpet types, couch, recliner, auto upholstery, mattress and more.
You may love to read
Daily deals – Find the best deals of carpet cleaners, vacuum cleaners, steam mops… on Amazon website that we carefully curate for you.
Summary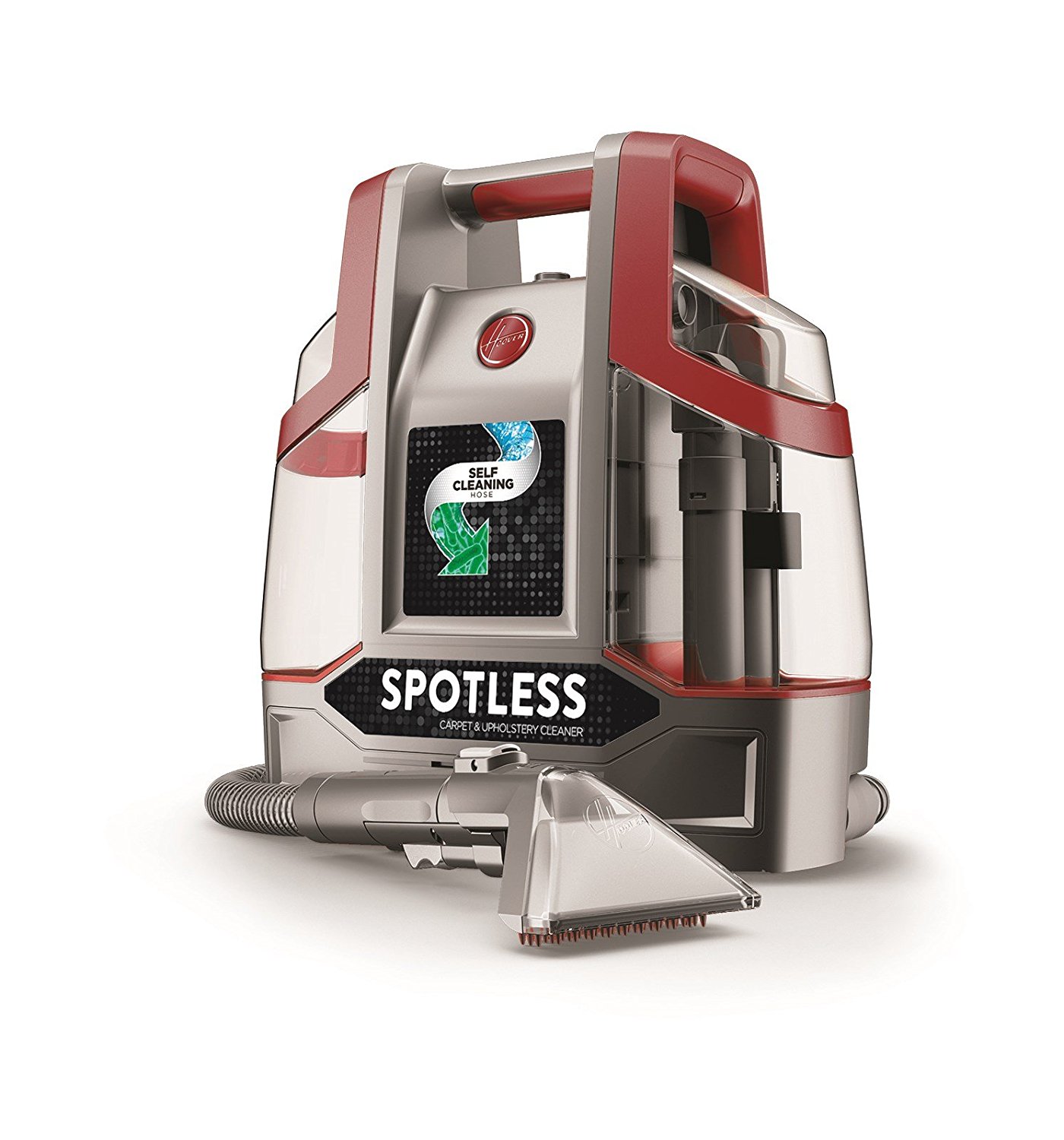 Article Name
Hoover portable carpet cleaner
Description
The Hoover portable carpet cleaner is one of the top 3 best portable carpet cleaner on the cleaning machine market. It has some new features that improves the machine to another level such as self-cleaning hose technique. It is very affordable, cheaper than its direct competitors such as Bissell Spotclean Professional and Rug Doctor Portable. This carpet cleaner is expected to change the portable carpet cleaner market game among Bissell, Rug Doctor and Hoover.
Author
Publisher Name
Publisher Logo