Last Updated on
Model XL2100RHS vs U2000RB2L-1 U2000RB-1 U2000R-1 U2000H2-1
last update: 22nd February 2019
Introduction
If you are seeking a vacuum for hotel, restaurant, school, stadium,… and any spacious place, Oreck Commercial is the only choice that works.
Oreck Commercial vac is ultra-lightweight (around 8 -9 lbs.) and it uses a big disposable bags to store dust, debris, metals, glasses. However there are up to 5 models sharing a lot of similarities.
Apart from the XL2100RHS, the rest units are still favored by thousands of users. So let's compare the similarities and differences among them.
What we cover in this guide-> Quick navigation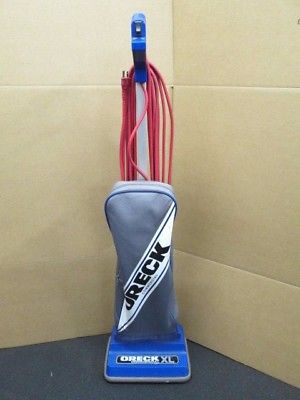 Similarities among XL2100RHS, U2000RB2L-1, U2000RB-1, U2000R-1, U2000H2-1
Oreck Commercial upright vacuums are highly rated as best upright units for high footage area cleaning tasks for many years. They are best known for extremely lightweight but have huge dust capacities. The dust is collected and stored in an upright durable bag design. The use of this flexible dust bag allows the machine to be very light in weight and very easy to clean under furniture without the need of removing the dustbin or using an extended hose.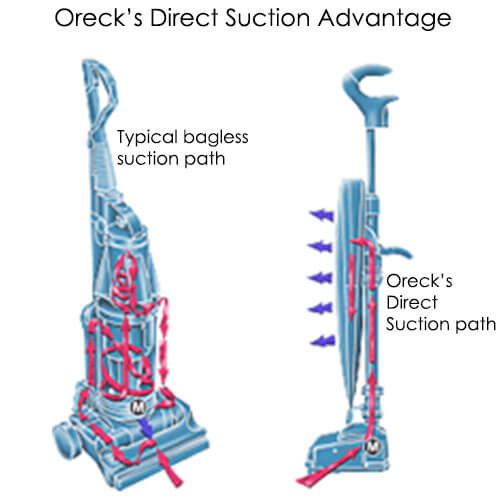 Direct suction allows the vacuum to suck the dust and debris better and reduce clogging issue[/caption]
Another advantage of Oreck Commercial upright vacuum is the brush head, which has a low profile design for cleaning under table, bed or sofa. The brush head unit has double helix brushes with high rotation up to 6500 rpm and it has nonmarring bumpers for wall protection. The handle is designed to reduce fatigue and this design is recommended by Arthritis Foundation for ease o use.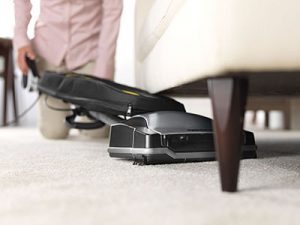 low brush head design with edge brushes and nonmarring bumpers
Last but not least, they are durable and low maintenance, therefore, you can expect to use Oreck commercial upright models for years without issues.
One downside is that Oreck Commercial upright units are somehow noisy. Noise is a common issue for commercial cleaning machine actually. Besides, it is the best for its intended use – commercial cleaning. You should bear in mind that these models give a medium suction power only, therefore, they are best for commercial use where we need a lightweight, durable machine for quick cleaning bare floors and low pile carpets, not for home use. For home cleaning, an upright vacuum cleaner should have more features to deal with challenging cleaning tasks. You can read our best vacuum cleaner for home use.
Differences among XL2100RHS, U2000RB2L-1, U2000RB-1, U2000R-1, U2000H2-1
These models have slight modifications in the machine height, cord length, two-speed quick switch regime and the permanent belt. Specifically
XL2100RHS is the basic version. It has a cord length of 35 ft. The rest models are 40 ft. with pigtail.
U2000RB2L-1 and U2000RB-1 have the belts. The rest models do not have permanent belts.
Only U2000RB2L-1 has two-speed quick switch regime.
You may love to read
Summary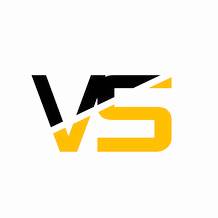 Article Name
Compare Oreck Commercial upright vacuum cleaners
Description
Compare Oreck Commercial upright vacuum cleaners Model XL2100RHS vs U2000RB2L-1 U2000RB-1 U2000R-1 U2000H2-1
Author
Publisher Name
Publisher Logo