Last Updated on
Products recommended in this post contain affiliate links. If you buy something through our posts, we may receive a commission at no extra charge to you. Prices and inventory are accurate as of time of publication.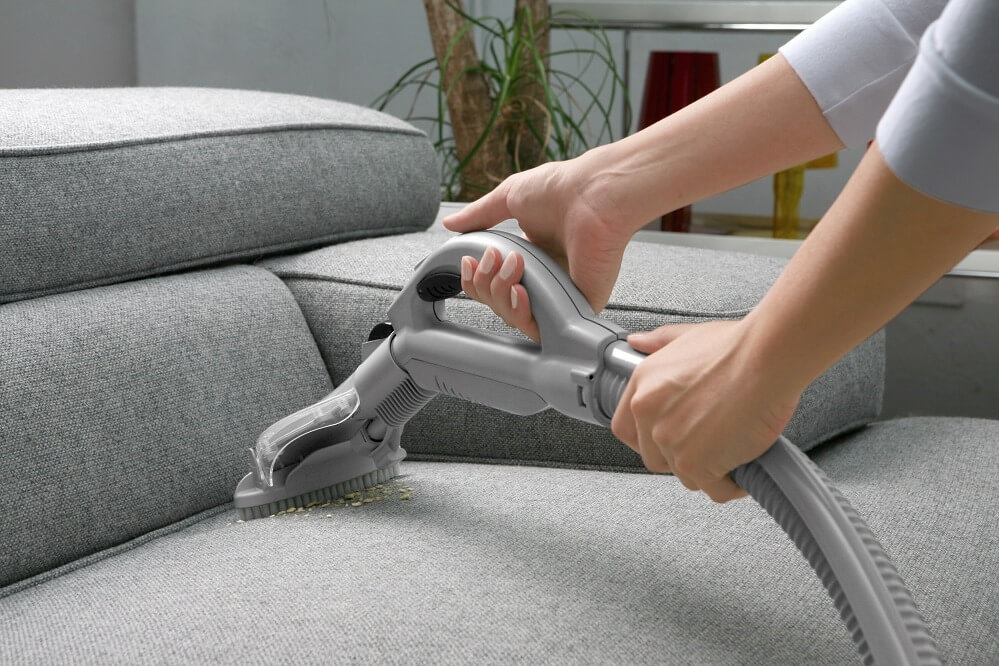 Having luxurious carpets is a must for any stylish home. In fact, even those fluffy ones are great if you want to give your room additional coziness. However, to maintain their luxury and comfort, there's one thing you'll need—a small carpet cleaner.
What Is a Carpet Cleaner?
A carpet cleaner looks like your standard upright vacuum cleaner, but don't be fooled! This cleaning equipment is different from your regular vacuum. Their mechanics are very different from each other.
For instance, there are carpet cleaners that have tanks, but they are not used for suctioning out dirt. Instead, they are used to apply a cleaning solution to your carpet and/or dry it out depending on your tool's features. Don't worry, we are going to talk about the different types of carpet cleaners in a while.
This equipment is also specifically designed to be used on carpets, unlike the usual vacuum cleaner that can be used on any floor space. The good thing about this is, since it is focused on doing one thing, it can do it exceedingly well compared to just getting an upright vacuum cleaner.
Getting a small carpet cleaner would surely something you and your carpet will be very thankful for. Anyway, as promised, let us now talk about the different types of carpet cleaners in order to gain more knowledge about what they are.
Different Types of Carpet Cleaners
There are different kinds of carpet cleaners, and each of them is identified according to the service that they provide.
Carpet Cleaners for Shampooing
This type of carpet cleaner uses carpet shampoo to breathe new life into your carpet. The downside of this type of cleaner, though, is if you're not careful, you may not be able to remove all the shampoo on your carpet, which can leave a sticky residue.
Carpet Cleaners for Wet Cleaning
This is closely similar to shampooers, but this type of carpet cleaner combines hot water with a (usually) non-sticky carpet cleaning solution to focus on the carpet's dirty spots and stubborn stains.
Carpet Cleaners That Use Foam Encapsulation
This type uses a technology that allows the foam to crystallize over dirt particles. Once they are dry, these crystals may simply be removed using a conventional vacuum cleaner or even a brush.
Although it might sound modern. This type of technology is not really new anymore. It is very effective in performing regular cleaning. The downside is, it can lack the power needed to save thick carpets that require heavy cleaning.
Carpet Cleaners for Bonneting
Bonneting is one of the most popular methods used for carpet cleaning. In fact, this is the method commonly used in commercial establishments like restaurants and hotels.
This method involves a carpet cleaner with a rotating brush that is soaked with chemicals. The rotation, plus the chemicals, can quickly dislodge and clean carpet fibers in a jiffy. However, they cannot be used to clean out more stubborn particles dislodged deeper in your carpet.
Carpet Cleaners for Steam Cleaning
Another popular choice is the steamer. This combines the technology of several carpet cleaners we have already mentioned above.
First, it uses hot water to extract pressurized steam. This steam will then dislodge all the debris and dirt particles that can then be suctioned out of the machine. It also contains brushes designed to clean the carpet, and finally, depending on your small carpet cleaner's features, it will give your carpet a final rinse of water to make sure that everything is removed.
We recommend scheduling your cleaning, though, as carpets cleaned using this type of cleaner requires quite a bit of time to dry.
Carpet Cleaners for Dry Cleaning
If allowing your carpet to dry overnight is simply not an option, then you might want to consider a dry cleaner. This applies a special solvent to your carpet using counter-rotating brushes. Since it doesn't use water in its cleaning method, there is no need for you to dry your carpet as well. Pretty cool, right?
You might be wondering, though, that most of these carpet cleaners are big and bulky. Honestly, most of them weigh more than your average upright vacuum cleaner! Don't worry, though. As promised, we are going to give you small and more portable options later on. First, what makes a small carpet cleaner, really?
What Makes a Small Carpet Cleaner?
Taking a cue from the word "small", a small carpet cleaner must be a portable and particularly more lightweight machine that you can move easily around the house.
While they can clean small surface areas at a time, you can easily cut the cleaning time in half by getting additional mobility and extra cord length. Most of these carpet cleaners also come with wheels on them for even more ease of use.
Carpet Cleaners vs. Vacuums
We are now almost at the exciting part where we are going to share with you our top five choices of the best small carpet cleaners in the market. But before we move on to that, let us first have a quick recap on the difference between carpet cleaners and vacuum cleaners.
The first major difference is the cleaning method. Vacuum cleaners primarily rely on their suction power to clean surfaces, including carpets. Carpet cleaners, on the other hand, employ a wide variety of methods, and that depends on the type of carpet cleaner you have.
Vacuum cleaners are meant to suck out dirt and dust, but they can fall short in removing stains and accumulated grime on your carpets. The downside of carpet cleaners is that they can be weak in removing dirt particles since they don't suction it out of the material.
In the end, we recommend utilizing both a vacuum cleaner and a carpet cleaner if you really want to take your carpet cleaning to the next level.
What to Look for in a Small Carpet Cleaner
Anyway, now that we are going to start looking at small carpet cleaners already, please take note of the following features that we are going to share down below.
Weight
As we have mentioned above, weight is a big factor when choosing the right small carpet cleaner for you. It won't be portable if it's going to be bulky and heavy, after all.
Suction
Depending on the features of the unit that you are getting, there are carpet cleaners that come with suction power too. They use this either to dislodge debris within the carpet fibers or to suck out water to speed up the drying time.
Storage
There are two things you have to consider with regards to the storage of your cleaning machine. First, does it look aesthetically appealing that you wouldn't mind it sitting out in one side of your living room for all the world to see? If not, then is it small enough that you can squeeze it in anywhere hassle-free?
Length of Cord and Hose
Next, small carpet cleaners usually only clean a small area at a time. If that's the case, then you would have to extend the length of your reach to compensate. That would mean that your cord and hose should be long enough for you to be able to do so.
Pet Capabilities
Vacuum cleaners can usually take care of the usual stuff with no problem. However, for the messier needs of a pet owner, some would require a carpet cleaner.
Make sure, though, that you find the label "pet" on your carpet cleaner before purchasing it just to make sure that it can deal with hairs, furs, and even the messiest booboos of your pets.
Tank Size
Carpet cleaners would have tanks to store cleaning solutions and water and somewhere to hold the debris and moisture that they suction out. Because carpet cleaners are small, it is vital to take a look into the size of their tank.
Is it big enough to hold everything you need in one cleaning session? Or do you need to refill it twice or thrice, which can honestly set you back on your cleaning time?
Warranty
Carpet cleaners are an investment. It would help that your unit would come with warranty terms that you can depend on.
Accessories
A carpet cleaner that will come with various attachments and other accessories will certainly help you in getting an all-in-one machine, letting you save hundreds of dollars (instead of buying separate machines), space, and energy!
Top 5 Best Small Carpet Cleaners of 2019
By the way, we are going to take into consideration the features that we have shared with you above when sharing our favorite carpet cleaners. Anyway, without further ado, here they are:
1. Bissell SpotBot Cleaner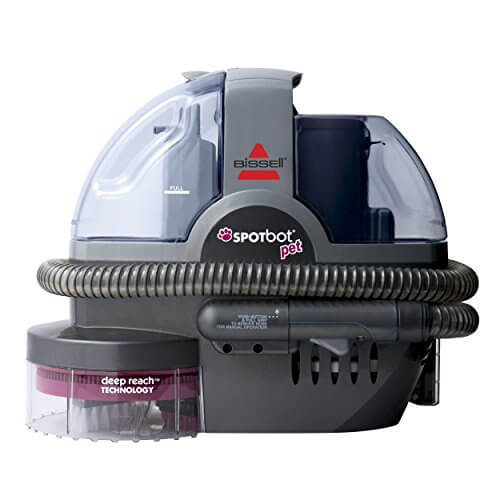 This small carpet cleaner by Bissell is not that lightweight, weighing in at 14 pounds, but that doesn't really matter. After all, it is a cleaning bot. You don't even have to hold it to clean. Instead, you just need to fix its settings (it has two pre-set cleaning options), turn it on, and you're all set.
What we love about this bot is the fact that it was specifically designed for pets. In fact, according to the company itself, they will even donate a part of your pay to different pet rescues and shelters for each product that you buy.
CHECK LATEST PRICE ON AMAZON.COM
2. Rug Doctor Spot Cleaner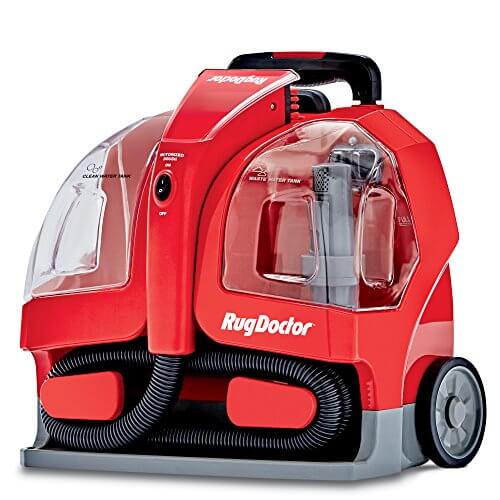 No matter how awesome a cleaning bot is, there are just times when we want to do the cleaning ourselves since it will allow us more control. If that's your thing, then you will love this unit by Rug Doctor.
While this one is even heavier than the previous unit, weighing in almost 20 pounds, don't worry because this unit is designed to be as mobile as your wheeled luggage. And it looks like one too! Just extend its handle and roll it to your cleaning area.
This cleaner also comes with different attachments, including a handheld motorized brush guaranteed to give you more control to remove those stubborn stains and spots.
CHECK LATEST PRICE ON AMAZON.COM
3. Bissell Carpet and Upholstery Cleaner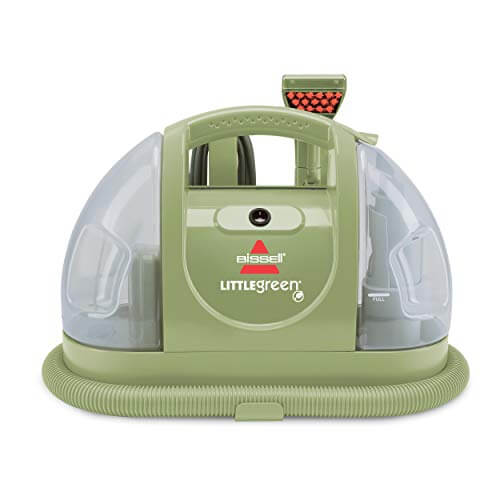 This small carpet cleaner by Bissell has got to be one of our favorites. That's because it is an all-in-one machine.
You can use this carpet cleaner on your carpets, your upholstery, and if you purchase its Bark Bath attachment, you can even use it to give your dog a bath! Finally, we also love that this unit is one of lightest out there, weighing in at only 9.6 pounds.
CHECK LATEST PRICE ON AMAZON.COM
4. Hoover Power Scrub Carpet Washer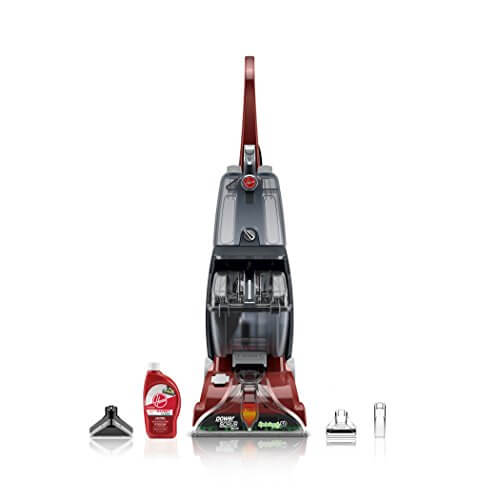 Let's face it, some of us just prefer the more classic look. If that's what you are looking for in terms of design, then you might appreciate the look of this unit by Hoover.
This carpet washer looks like a traditional upright vacuum cleaner, but don't get it mistaken. This unit is nowhere near your average cleaner. It includes three different attachments that you can all get together with the device for a single price.
The only downside to using this carpet cleaner is that it's not marketed for pet owners.
CHECK LATEST PRICE ON AMAZON.COM
5. Hoover Spotless Cleaner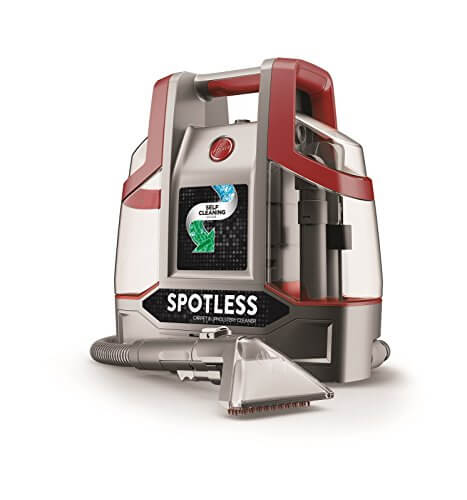 Finally, we have this unit by Hoover as our fifth choice. We are really blown away by this cleaner. It's not only the lightest on this list at only 9 pounds, but it is also one of the most stylish. It's also pet-friendly, in case you are wondering.
What we absolutely love about this unit is its self-cleaning hose feature. Hoses can be challenging to clean, and the issue is, they can stink really bad. With this carpet cleaner, you simply don't need to worry about that anymore!
Now that we have just finished talking about our top choices, you might be wondering if it is really vital for you to get a carpet cleaner. You might be asking yourself…
CHECK LATEST PRICE ON AMAZON.COM
When Do I Need to Use My Small Carpet Cleaner?
First of all, you need to understand that carpet cleaners are for heavy cleaning. Then again, you need to clean your carpet before it gets really dirty if you want to preserve its beauty.
Hence, we recommend taking your carpet cleaner out every six months for the areas that get lower feet traffic and activity, or every three months for areas that are constantly exposed to dirt and grime (like hallways).
Tips and Tricks to Get the Most Out of Your Small Carpet Cleaner
Carpet cleaners are truly very powerful in what they do, but here are tips in order to improve their efficiency even more:
Check the material of your carpet before using any chemical cleaning solution. Make sure that your cleaning liquid won't damage your plush carpet.
Test your carpet cleaner on a small corner of your carpet first.
Double check if all of the settings are according to your carpet's needs before turning on the device.
Some carpet cleaners use hot water to make its cleaning ability more potent. Hence, take extra care when using them, especially when around kids and pets.
Professionals vs. Home Cleaning Your Carpet
Finally, you might even be wondering why you should get a carpet cleaner at all, despite the many benefits that we have presented to you above. That's understandable. There are, after all, a lot of carpet cleaning services that you can hire—some even don't cost that much!
Well, there are two reasons why you should want a carpet cleaner handy. First, spills and other accidents that might cause a stain on your carpet can happen at any time. You need to remove them immediately if you don't want them to leave a permanent mark. Having a carpet cleaner at home means that you have the power to do just that.
Second, carpet cleaning services can still cost money. Think of all the dollars you can save by getting your own machine and doing all the work instead, especially if you're very passionate about keeping your home pristine.
Final Words
In the end, it is entirely up to you whether or not to get a small carpet cleaner for home use. If you ever decide to get one, though, we hope that you have found our article useful and informative.
There are a lot of carpet cleaners in the market today. Get one that's small and portable enough to give you the ease of use you need, yet make sure that it's powerful enough to deliver and get the job done.
Top Editor's Choice on Small Carpet Cleaner