Last Updated on
Housmile robotic vacuum cleaner – a robot vac under 100 dollars that works
last update: 16th June 2019
Introduction
What we cover in this guide-> Quick navigation
If you are searching for a low-price robot vacuum for bare floors or thin carpets, you do not really need to invest a $200 unit, because there are quite a few models that can clean bare floors amazingly. Housmile Robot Vac 3071C is one of them.
Housmile robot vacuum cleaner (3071C) is one of the cheapest robot vacuum cleaners on the market with the highest rating from consumers.
At the price of under $100, Housemile robot vacuum unit delivers more than what you can expect. Apart from the attractive price, this unit has a very long run time up to 90 minutes that beats all of the rivals.
The model has been equipped with essential features such as three-stage cleaning (sweep, vacuum and filter the air), Li-ion battery for long run time, 2 cleaning modes, anti-drop sensors and powerful suction level.
Housmile robot vacuum 3071C has a low profile (only 2.4'' height) and has 4 side brushes, allowing you to clean tables, sofa and hard to reach corner better.
The only missing feature, as expected, this unit does not have wifi connection, therefore, you can't control the vacuum cleaner when you are not at home.
Check how much you can save when buying Housmile Robot Vac below.
CHECK PRICE ON AMAZON
Construction
Housmile robot vacuum cleaner (3071C) has the similar design with any robotic vacuum units out there (circular shape).
Housmile model has a lighter weight and lower profile if you compare with iRobot 600s series, which is measured by 8.9 x 8.9 x 2.4'' in size and 2.6 lbs. in weight.
The unit has 2 removable side brushes which is designed for cleaning edges and corner.
Because Housmile 3071C has a low profile only 2.4'', it can navigate better under kitchen cabinets than some other rivals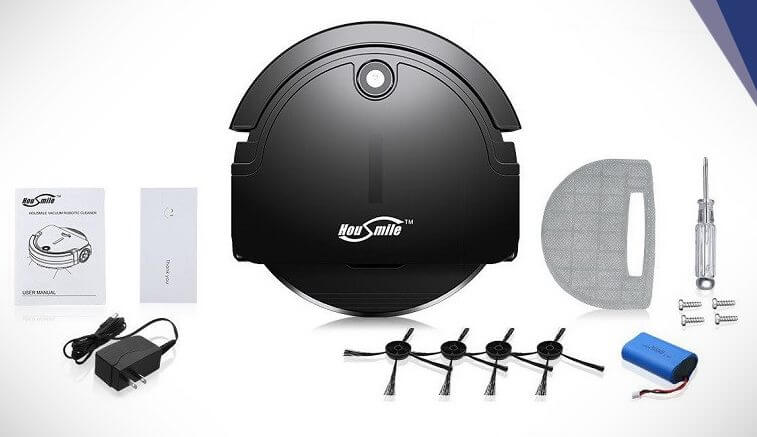 The unit has a motor with 1000 Pa power to give a generous suction activities to clean up the dust and debris on hard floors and low pile carpets easily.
Benefits of Housmile 3071C
There are 2 working modes that Housmile 3071C can deliver. You can either choose to clean the small room (working for 30 min) or cleaning the big room (60 min). The unit uses a high capacity Li-ion battery which gives lover 90 minutes of fade-free suction. There is no robot unit from any brand that has such long run time as this model.
Versatile to clean multiple surfaces from bare floor, vinyl, to carpets.

Advanced filter system that reduces the dust and allergen up to 99.7%

Anti-drop sensors prevent the unit to fall off the floor.
One of the cheapest robot vacuum cleaner with highest rating and performance (in terms of run time, suction power, multiple floor cleaning capacities)
Technologies used in Housmile 3071C
Four cleaning patterns for edge cleaning, spot cleaning, big room cleaning and small room cleaning
Powerful motor up to 1000 Pa
Advanced Li-ion battery 2600 mAh for 90 min cleaning time to clean up 1600 sq.ft. Per single charge. The model can run and charge for years without loosing the power.
Auto detects and adjust to floor surfaces for better cleaning.
Sensors to detect the floors and obstacles to prevent dropping off the floor and stair.
Specifications of Housmile 3071C
Model: 3071C
Power Rating: 10W, 1000Pa motor
Li-ion battery 2600mAh
Charging Time: 3-5hours
Dimensions :8.9 x 2.4 x 8.9
Weight: 2.6 lbs.
Warranty: 12 months
Pros and cons of Housmile 3071C
Pros
While it is a low price robot vacuum, users tend to suspect the performance of this unit because when compare with cheapest Roomba unit or ILIFE A4, this model is still very cheap (it is just about 1/5 price of a casual Roomba such as Roomba 800 series).
When using in reality, users agreed this unit having excellent performance. It cleans very throughout which is somehow similar to Roomba model.
It is simple, easy to use and easy to clean, has a long run time and strong suction. It is totally worth every cent for a smart cleaner.
Cons
As expected, this unit has cut some advanced features to be cheaper such as auto-recharge and resume cleaning (actually it can run for 90 minutes, therefore, it won't need this feature), virtual wall, wifi-connect or room scanning and visualization.
This unit retains the basic functions and optimize in suction power and run time mostly.
Because it is small and compact, it is great for use in small rooms mostly.
Recommendation
If you are looking for a nice robot vacuum cleaner at a low budget, then Housmile 3071C will be a great choice in 2019. It receives highest critical ratings from hundred users for the value it brings about. The model is recommended for users who also want a basic robot vacuum cleaner for longest run time.
Against for users who are always away from home because this unit does not have the wifi connection, meaning you can't control, schedule it to clean via Alexa or smart phone apps like Roomba or Shark Ion Robot.
CHECK PRICE ON AMAZON
You may love to read
Summary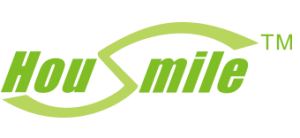 Article Name
Housmile robotic vacuum cleaner (3071C) reviews
Description
Housmile robot vacuum cleaner (3071C) is one of the cheapest robot vacuum cleaners on the market with the highest rating from consumers
Author
Publisher Name
Publisher Logo