Last Updated on
last update: 16th February 2019
Short Summary
Dyson V8 Absolute Cordless is the most popular cordless unit from Dyson, which is also known as #1 Best rated cordless vacuum cleaner.
The model is an upgraded version of previous cordless unit (Dyson V6), which  is featured by the most powerful motor (150% more than the Dyson V6 model) and can run up to 40 minutes when fully charged.
It comes with HEPA filtration technology so it is a great choice when you have allergies, asthma. The main differences are that when you clean thick rugs, carpets,…, the Dyson V8 beats all others.
Introduction of Dyson V8 Absolute
Dyson V8 Absolute Cordless HEPA Vacuum Cleaner is one of the latest upright vacuum cleaner from Dyson (handheld line), together with Dyson Ball Multi-floor 2 and Dyson Ball Animal 2 upright vacuum (corded line). This V8 model has a bunch of improvements and accessories, which help you to get rid of the dust and dirt in the less hassle way possible.

Main benefits of Dyson V8 Absolute Cordless HEPA Vacuum Cleaner
Quiet when using
When you run both the V6 model and V8 model, you will notice the noise from V8 is much more lesser than the previous one. Check this video to see how Dyson V8 performs and you can notice that it run smoothly and quietly as a breeze. Dyson V8 is the only cordless unit that is well known as best silent vacuum today
Powerful suction machine 
The Dyson V8 Absolute Cordless has 150% more push power than the V6 model, claimed by Dyson.
Longer running time
This Dyson V8 Absolute Cordless HEPA Vacuum Cleaner can work for up to 40 minutes after fully charged (about 4 hours). Compared to Dyson V6 (only 20 minutes) and Dyson V7 (30 minutes), this is a big win
More tools for optimized cleaning difficult to clean places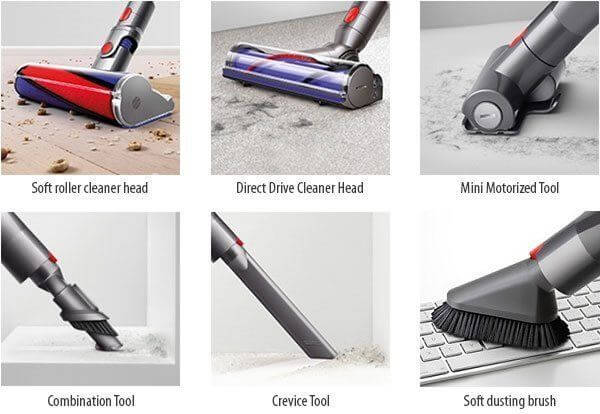 (photo source: Dyson website)
The Dyson V8 Absolute Cordless HEPA Vacuum Cleaner has crevice tool for hard-to-reach areas, which will help you to get the dust out of under kitchen cabinets, furniture easier. This is the common adding tool for V7 and V8 model, V6 model does not have such tool.
Remove pet hair easily with motorized tools
When you have pets at home, picking up pet hair is not an easy task especially when your vacuum cleaner is not strong enough. The motorized tool will give extra force, together with the main cleaner head that will help you to suck up pet hair without tangling.
Friendly to people who have dust allergy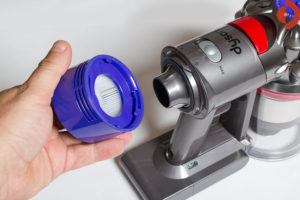 The Dyson V8 Absolute Cordless HEPA Vacuum Cleaner uses HEPA technology which will filter up to 99,99% the air, releasing only fresh air therefore if you are having trouble with dust, check the vacuum with HEPA technology/ HEPA bag because it will save your life from sneezing all the time
A lot of tools
Such as soft dusting brush, extra cleaner head,carpet head, the barefloor head, the turbo head, the soft dusting brush, the crevice tool, and the combo tool. …for your customization.
Highlighting features of Dyson V8
HEPA filtration technology for allergic person
Long running lithium ion batteries for longer work (40 mins)
Hygienic dirt release without hand touch
2 tier Radical cyclones -15 cyclones
Can be transformed into a handheld vacuum cleaner
Convenient when storage with docking-charging unit
Size: 8.9 x 9.9 x 49 inches
Weight: 5.75 lbs
Cordless and bagless
7 mins when working with max mode
Comparison of Dyson V8 vs Shark Ionflex and Hoover REACT
These cordless stick vacuum models are newest cordless vacuum cleaner in 2017 from famous brands. All of the have a lot of similarities in design and machine features therefore comparing Dyson V8 with others is a very interesting topic. You can read details the similarities and differences among them here.
Customer reviews of the Dyson V8 Absolute 
Most of users of the Dyson V8 are owners of Dysone V6 or V7 in the past for a few years already and now they update the new released model. Therefore, apart from users who come to choose this model first time, a lot of users highlight the greatness of the Dyson V8 against Dyson V6.
They claimed that this model is quieter, more suction and have a better battery running time. The main difference is recognized when you clean thick rugs or thick carpets. When dealing with such surfaces, Dyson V8 becomes superior. The only complain is about Dyson customer service, not the product itself. Until now, Dyson V6, V7 and V8 are among best sellers on the market so far (regarding cordless model).
Conclusion
Dyson V8 Absolute Cordless HEPA Vacuum Cleaner is the most powerful cordless vacuum cleaner than can be transformed into a handheld vacuum cleaner in a blink. This model is for person who needs a throughout cleaning tool with highest suction level, or person with airborne allergies. The machine can run for 40 minutes is another great advantage. However, it is currently expensive. If you need a more affordable alternative, the Dyson V6 is still one of the most popular choice.
Dyson V8 FAQs and troubleshooting
Compare Dyson v8 absolute vs Dyson V8 animal Cordless HEPA Vacuum Cleaner
Both dyson v8 absolute and Dyson V8 animal have the same functions, features and technologies, but the Dyson V8 animal is cheaper than the V8 absolute more than $100. The main difference is that the V8 absolute has another additional cleaner head for large debris surfaces (Soft roller cleaner head), which is useful when you have a lot of carpet floor and curtains. Since this adding cleaning head is valued more than $100, you can consider the Dyson V8 Absolute is the best cordless vacuum cleaner in case you don't have carpet floor at home.
Dyson v8 absolute sale off models
There are several sale off Dyson V8 vacuum cleaner here, where you can get the machine at a cheaper price up to 16% of listed price (refurbished, used and like new, unused and open box version).
Compare the Dyson V8 and Dyson V6 cordless vacuum
The Dyson V8 differs a lot with Dyson V6 in 6 aspects
Brush bar power: the Dyson V8 cordless vacuum is stronger than the V6 150%
Run time: the Dyson V8 cordless vacuum has double run time (40 minutes vs. 20 minutes)
Tools: The Dyson V8 has Crevice tool for hard to reach places, Mini motorized tool to remove pet hair and ground-in dirt, Soft dusting brush for gentle dusting
HEPA filter: the Dyson V8 cordless vacuum has HEPA filtration (V6 does not have)
Adding brush head: the Dyson V8 cordless vacuum has a soft roller head for debris cleaning (V6 does not have)
Price: the Dyson V8 cordless vacuum double in price
You may love to read
Summary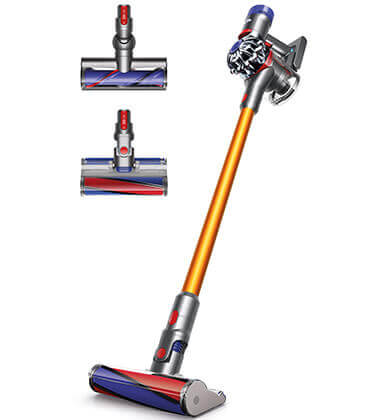 Article Name
Dyson V8 Absolute Cordless Vacuum Cleaner Reviews
Description
Dyson V8 Absolute Cordless Vacuum Cleaner is the updated model from Dyson V6,adding 40 minutes running time and 150% power. Full reviews.
Author
Publisher Name
Publisher Logo