Last Updated on
BISSELL PowerLifter 1622 is a low price carpet cleaner with high reliability
last update: 16th June 2019
Introduction
Carpet washers do not need to be expensive. Actually, there are a few affordable models that are very efficient and highly rated over years. If you are seeking for a low-cost, effective, classic upright carpet cleaner, Bissell PowerLifter 1622 is a great candidate.
Bissell PowerLifter 1622 is one of the most popular choice when considering an upright carpet cleaner at low price with high reliability.
The best part of this Bissell PowerLifter 1622 is that it is very cheap. At under 100 bucks, this is a rare upright carpet cleaner that you can grab right away back home.
Check how much you can save when buying Bissell PowerLifter 1622 below.
Users highly appreciate its performance when cleaning home carpets and rugs. This model uses a motor of 6.25 amps rating, which gives plenty of suction power that you might not think of.
Another great advantage is that, Bissell 1622 is super-lightweight (only 16 lbs.), meaning you can clean for long time with less fatigue.
You should notice the water tank is a little bit small (0.75 Gallon) when compared with other popular models like Bissell Proheat 2X 1548, Bissell Proheat Essential 1887, and Hoover Powerscrub Deluxe FH50150PC (all have 1 Gallon tank).
This model is designed for floor cleaning, as there is no attachments for upholstery, hard-to-reach places. If you need an all-in-one upright model at low cost, Hoover Powerscrub Deluxe FH50150PC can be a perfect alternative.
Why people choose Bissell PowerLifter 1622?
Bissell PowerLifter 1622 is number one option for users with limited budget. The model cost you only under 100 bucks and it is perhaps the cheapest upright carpet cleaners so far. This is because Bissell PowerLifter 1622 is a basic model. It does not have new features like Bissell Proheat 2X series.
It does the job. This model can deliver strong suction like any model at higher price. It leaves carpet almost dry after washing.
It is easy to set-up ans easy-to-use. You just need a screwdriver to set up the machine in 5 minutes.
It has a

long tracking record.

This model has been on the market for long time, you can check for thousands of consumer reviews and feedback after using the machine.
Feature and benefits of Bissell PowerLifter 1622
Simple-to-use and compact. Bissell PowerLifter 1622 is the most compact model and it is only about 16 lbs., which is very light in weight when comparing with others.
Full-size capacity. The cleaning path width of this unit is 11'', which is somehow similar to any full-size upright units. The brush head is constructed with 4 row Dual DirtLifter brushroll, which penetrates into the carpet bottom and extract built-up dust and grimes.
Dual water tank This water tank is somehow small to many people. Many newer models use the water tank of 1.25 Gallons, but that can be expected as this Bissell PowerLifter is a compact and low price machine.
You basically can shampoo up to 80 sq ft. before replacing clean water, and that is quite sufficient for cleaning a room at once.
Specifications of Bissell PowerLifter 1622
Dimension: 19 x 11 x 44 inches
Power rating: 6.25 amps
Cleaning path width: 11 inches
Brush system: 4 Row Dual Dirtlifter
Water tank: Dual style, 0.75 Gallons
Surrounding suction: no
Heatwave technology: no
Heater: no
Hose: no
Cord: 20 ft
Warranty: 1 years
Performance of Bissell PowerLifter 1622
Bissell PowerLifter 1622 has an impressive cleaning results. It can recover stained carpets with a single pass. You can check for cleaning results of this model below.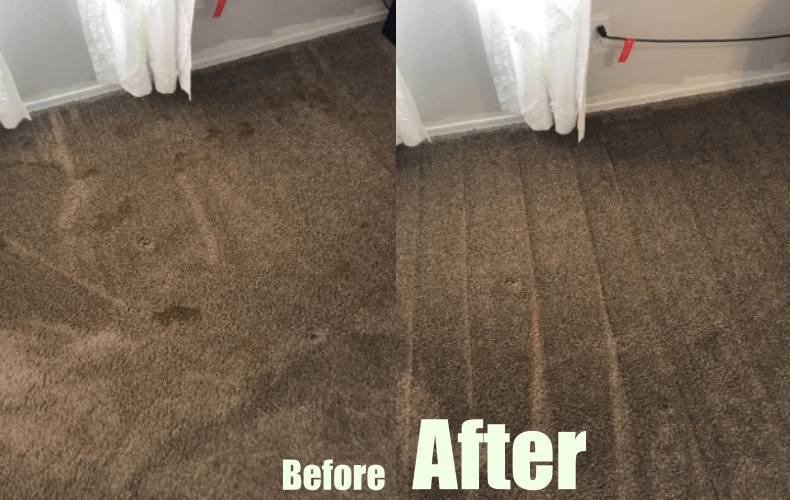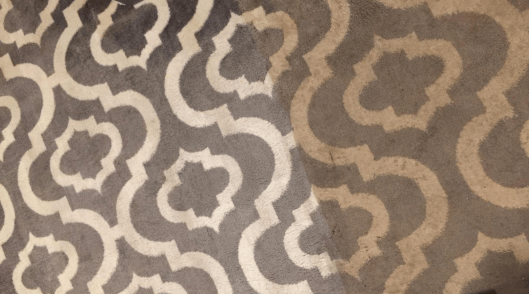 Pros and cons of Bissell PowerLifter 1622
Pros
Very affordable
Decent cleaning performance
Compact and easy to use
Cons
Lacks of additional tools
Small water tank
Bissell PowerLifter 1622 rating
Ease-of-use: 10/10
Simple-to-assemble: 10/10
Carpet cleaning results: 9/10
Stain cleaning results: 9/10
Wide area cleaning: 8/10
Price value: 10/10
Carpet drying time: 8/10
Trouble-free during use: 9/10
Bissell PowerLifter 1622 manual
You can check the manual of this model here.
Should you buy Bissell PowerLifter 1622
Bissell PowerLifter 1622 is a budget-friendly option for small apartments, dormitory and a good gift item for seniors and those who needs nothing else but a carpet cleaner that works. We highly recommend this model for home owners if you do not need to clean above surfaces like upholstery, sofas.
You may love reading
Bissell carpet cleaner comparison – Compare popular carpet cleaners from Bissell brand
Hoover Power Scrub Deluxe review – An alternative model of Bissell 1622 with full option and low cost
Today deals – Featuring best carpet cleaner deals of the day, where you can discover which best rated models are on discount.
Summary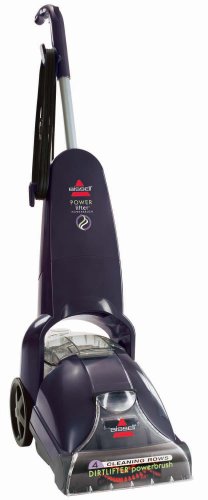 Article Name
BISSELL PowerLifter PowerBrush Upright Carpet Cleaner and Shampooer, 1622 reviews
Description
BISSELL PowerLifter PowerBrush Upright Carpet Cleaner and Shampooer, 1622 is a basic model under 100 bucks for users who need nothing else but a trustworthy machine that works. Remember that it is designed for floor carpets, not for upholstery cleaning as it does not have the hose. Let's review and discuss whether it is a good choice for you.
Author
Publisher Name
Publisher Logo