Last Updated on
Shark Ion F80 vs Dyson cyclone V10 comparison
Last update: 16th June 2019
Introduction
If you are seeking for the best cordless vacuum among famous brands, I believe you will end up with the most advanced, newest models from Shark (Shark ION F80) and Dyson V10.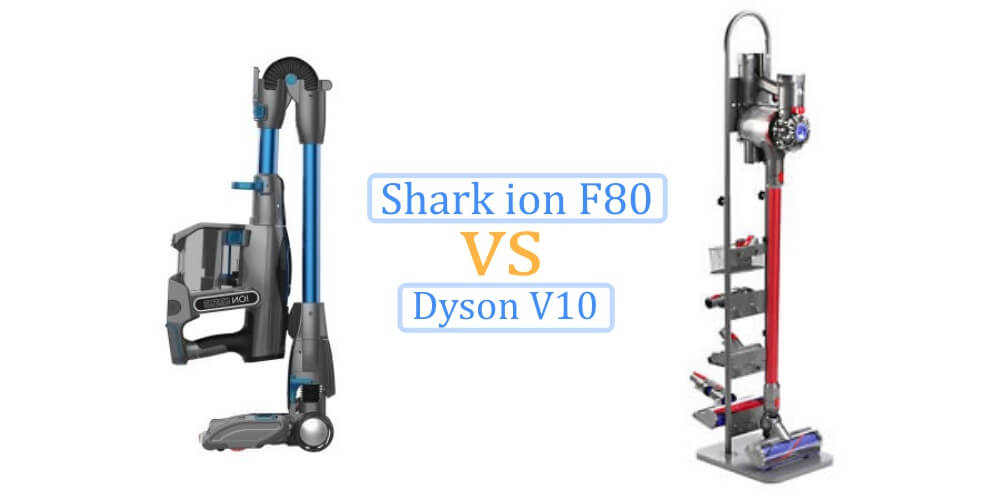 Shark Ion F80 is the newest cordless vacuum from Shark brand which is designed to replace a corded model.
Dyson cyclone V10 is the Dyson cordless model with the strongest suction and longest run time.
Let's compare these two ultimate models to see which one is the better option. 
Further reading: Shark Ion F80 reviews; Dyson V10 reviews
Table compare Shark Ion F80 vs Dyson cyclone V10
You can compare features of both models in the below table
| Model | Shark ION F80 | Dyson V10 |
| --- | --- | --- |
| Photo | | |
| Dimensions (in) | 13.4 x 10.2 x 46 | 9.8 x 10.1 x 49.2 |
| Weight (lbs) | 8.51 | 5.88 |
| Max Runtime (min) | 80 | 60 |
| Battery type | removable | non-removable |
| Dust cup size (dry quarts) | 0.3 | 0.49 |
| HEPA | no | yes |
| LED | yes | no |
| Overal rating | 92/100 | 84/100 |
| Discounts | available | available |
| Price | Check Price | Check price |
Similarities of Shark Ion F80 vs Dyson cyclone V10
Both models are high-end cordless vacs
Unlike others, they offer very long run time, over 1 hour of continuous run time (Shark model can run for 80 minutes and Dyson V10 can run for 60 minutes). This long-run time benefit is very important as we do not want to wait for 3-4 hours of recharging during cleaning time.
Beside the running time, the brush heads of them are optimized so that they can clean better
Shark Ion F80 uses Duoclean brushroll technology to engage on bare floors and remove fine dust and large debris easily. Dyson V10 offers 2 cleaner heads: a soft roller for picking up fine dust and a torque cleaner head to remove more dust and debris on carpeted surfaces.
Both of the rollers are the best designs so far.
Last but not least, they are very ergonomic and flexible
Both can be converted into a hand vac or can be used for ceiling cleaning, upholstery cleaning and so on. Shark Ion F80 has a bending body which is called multiflex technology, allowing you to clean under furniture easily. The brush cleaner head of this unit also has a bright LED system to reveal the hidden area. Dyson has a bunch of accessories to tackle different needs and it is very lightweight.
Differences of Shark Ion F80 vs Dyson cyclone V10
Dyson cyclone V10 battery is non-removable
The battery of Dyson V10 is attached to the machine, meaning that you have to bring the unit to the charging dock for recharging. Shark Ion F80 battery is removable, and there are two packs inside the package. You can charge one while using one to save time.
Shark ION F80 is top-heavy
When converting into a hand vac, Shark cordless vac seems to be heavy ( For comparison, Shark Ion F80 is 8.7 lbs., while Dyson V10 is just about 5.85 lbs.)
For users who often use hand vac, Dyson V10 is a better option
Dyson V10 has HEPA filtration and asthma friendly certified.
Dyson cyclone V10 uses HEPA filtration which is friendly to users with breathing problems while Shark Ion F80 does not have such benefit.
Shark Ion F80 has a small dust cup
Shark ion F80 has a smaller dust cup than the Dyson model (0.3 quarts). Dyson V10 has a dust cup which is nearly 2X of Shark model. If you have to pick up a lot of debris, Dyson V10 is definitely a better option.
Shark Ion F80 is cheaper than Dyson V10
You can save up to hundreds bucks when choosing Shark ION F80 compared to the Dyson V10.
How to choose
Despite both models are very powerful in suction and cleaning capacities, their differences in design and price value can lead to different cleaning need.
Shark Ion F80 is suitable for whole home cleaning, especially hard-to-reach places like under furniture. It does not have HEPA filtration, therefore, it is designed for casual homes. The bright LED lights are plus point.
Dyson V10 is suitable for whole home cleaning, especially when dealing with the above surfaces like ceiling, curtain, sofa…thanks to its ultra-lightweight. Dyson V10 is a better option if you live in a place with a lot of dust and allergens. The bigger dust cup and HEPA filtration system are big advantages.
Conclusion
Hope with the above explanation, you can understand the main differences of the two best cordless vac in 2018 and pick the right one for your home.
Recommended reading
Shark APEX Duoclean with Zero-M reviews