Last Updated on
Products recommended in this post contain affiliate links. If you buy something through our posts, we may receive a commission at no extra charge to you. Prices and inventory are accurate as of time of publication.
Introduction
If you are seeking for a great steam mop, probably you will find a lot of models from Bissell and Shark. However, you may leave out Light N Easy brand and actually this brand is one of the greatest manufacturers in the UK over 60 years.
Light N Easy steam mop is developed by Xiotn Group which is the inventor of the first steam mop. Light N Easy steam mop has the highest rating over many models thank its classic but prominent design.
The steam mop has a sensor that will deliver the steam only when you move it on the floor and stop steaming when you stop cleaning. This feature will protect you from damaging the floor if you forget to shut down the unit.
Besides, this model has a 360-degree swivel head that you can adjust the head as a triangle shape for corner cleaning or a rectangular shape for big area cleaning.
The water reservoir can be refilled even when you are using the steam mop.
With over 60+ years of experience in making cleaning product, Light N Easy steam mop will cater most of your floor surfaces in an easy way.
Let's check for the benefits and discover why this model has the highest rating over the years.
Check how much you can save when buying Light N Easy steam mop below
Why People Choose

Light N Easy Steam Mop
Fast heating time

Light N Easy steam mop needs only about 20 seconds to reach steaming heat which is a bit faster than Bissell Powerfresh steam mop 1940 model and many old-fashion unit.



Lightest weight

Among best-rated steam mops, this model is the lightest which is only 4.1 lbs. The lightweight allows it to move back and forth effortlessly.



The smart sensor delivers the greatest value

With the sensor, Light N Easy steam mop will deliver the amount of steam that is best for your floor type and it only releases when you move the steam mop on the floor. Therefore, you will not need to worry about destroying your floor if you forget to shut off and walk away.



360-degree swivel steering

Allow you to clean the corner better when you need to target these areas, by using the triangle shape and reduce the cleaning time by using rectangular head shape. This can be considered as a combination of Bissell steam mop and other triangle head shape units such as O-cedar or SKG steam mop unit.



1-year money back guarantee

From the brand gives you the confidence to use the model without any defects. Light N Easy offers a FREE REPLACEMENT POLICY without any costs from customer side and 1-YEAR WARRANTY.
Technology And Specifications

Of Light N Easy Steam Mop
Smart sensor to control the steam released level
XL water tank and refillable while cleaning
Fast heat up time only 20 seconds
Ergonomic soft grip
360 degrees swivel head
Multi-floor and surfaces cleaning
Dimensions: 8.5 x 8.5 x 50 inches
Weight: 4.0 lbs.
Cord length: 20 ft
Water tank size: 90 oz
1-year warranty, 1-year money back guarantee without costs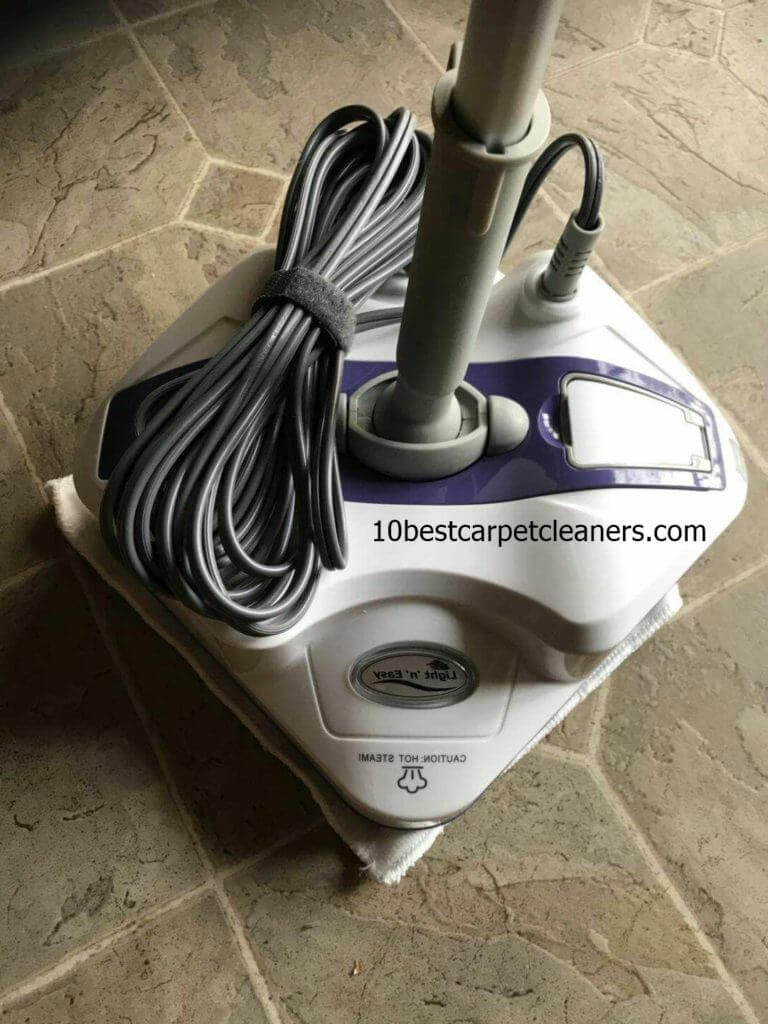 Pros And Cons

Of The Light N Easy Steam Mop
Should You Choose

This Steam Mop In 2019?
​
This steam mop is ultra-lightweight and the swivel head is a great point when comparing with other brands. If you need a good steam mop for using a few years, this unit will be a great try.
Top Editor's Choice on Light N Easy Steam Mops