Last Updated on
last update: 16th June 2019
Important notice: Black Friday Carpet Cleaner Deals are spotted! Check for the true carpet cleaner deals with less money!
Introduction
Bissell DeepClean carpet cleaner is Bissell's exclusive design for the home with a lot of pet hair, including 3 impressive models Bissell DeepClean 17N4, Bissell DeepClean Lift-Off 24A4, and the Bissell Deepclean 36Z9.
Bissell Deepclean Deluxe 36Z9 features both deep carpet cleaning and pet stain cleaning activities, by adding a bunch of unique built-in components such as stain trapper tool, tough stain tool, pet hair collection basket and so on.
Although this model does not have such lift-off capacity like the Bissell 24A4, it is more convenient if you have to clean a lot of spaces at once, because its water tank is bigger (1.25 Gallons vs 0.75 Gallons).
You can check for the price of Bissell DeepClean Deluxe 36Z9 below or read the full reviews to see whether this model is a right choice for your home.
Why people choose Bissell DeepClean Deluxe 36Z9
A lot of people choose Bissell DeepClean Deluxe 36Z9, even it is not a new model (first appeared since 2013) because
#1. It really cleans the carpet. Besides, it can actually suck up a lot of water out of the carpet so that it will dry faster.
#2. It has a sturdy construction. It has a 3-year warranty so you will not need to worry about machine defect if there is any mishap.
#3. It has a special dog hair catcher tool which works great. Besides, the machine has a special pet hair collector that separate the hairs and the water tank.
Special features of Bissell DeepClean Deluxe 36Z9
Optimized for deep cleaning 
Bissell DeepClean Deluxe 36Z9 is designed for deep cleaning carpet, upholstery, stairs, and low pile carpet. This model uses a motor of 7 amps rating to give strong suction power. For optimizing cleaning performance, the machine has heatwave technology which will keep the water warm during the cleaning process, so that the dirt will be removed easier.
The brush head system of this Bissell Deepclean 36Z9 is constructed with 12-row dual dirtlifter powerbrush, which is Bissell strongest brush system for home use so far.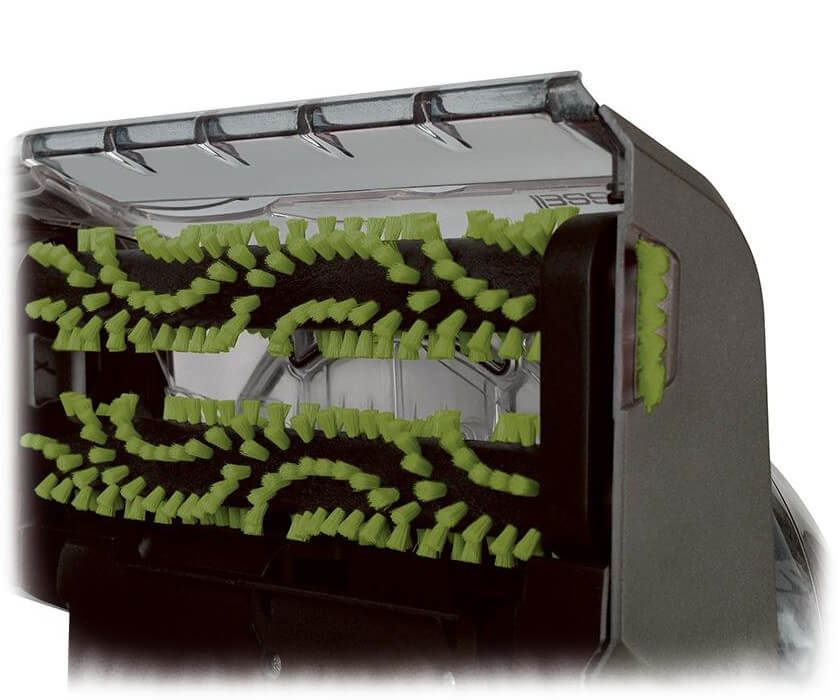 These brush units counter-rotate and lift off dirt and grimes on carpets. Besides the main brush system, it does have edge sweep brushes which are useful when cleaning stair, corners.
When encounter tough stains, you do not need to clean those spots manually, because the Bissell Deepclean 36Z9 does have a pre-treater on the brush head, which will spray the on-demand solution on the carpet to effectively remove set-in stains.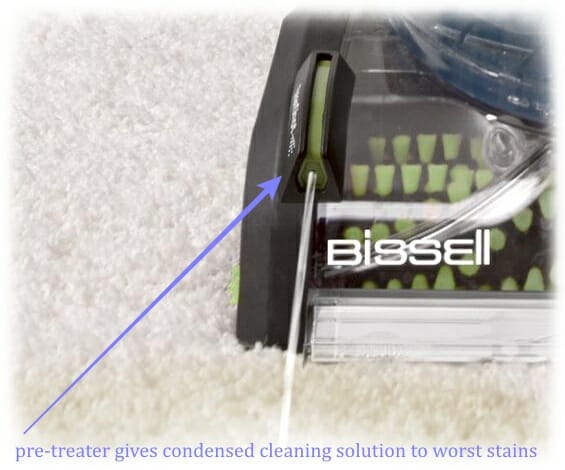 After spraying, you can also use a built-in stain trapper tool to remove and store the stain in a separate container. This will prevent the whole cleaning solution becomes dirty.
Optimized for pet stain cleaning
Bissell Deepclean 36Z9 has 3 unique designs for treating pet stains and collecting pet hair.
When you are dealing with pet stains, the Stain trapper tool will help you to collect the dirt, pet messes and store it in a small container out of the machine. This tool will keep the cleaning water staying unpolluted so you do not need to change water often.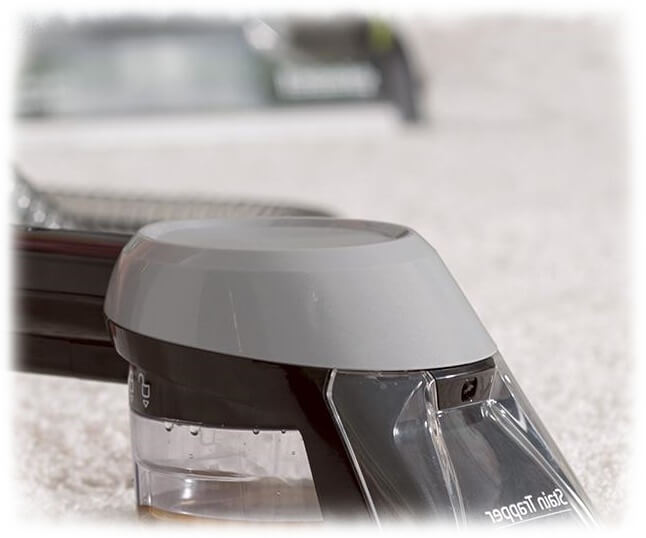 When you are dealing with old stains, set-in stains, the Tough Stain tool will spray, rinse and extract the dirt at the same time.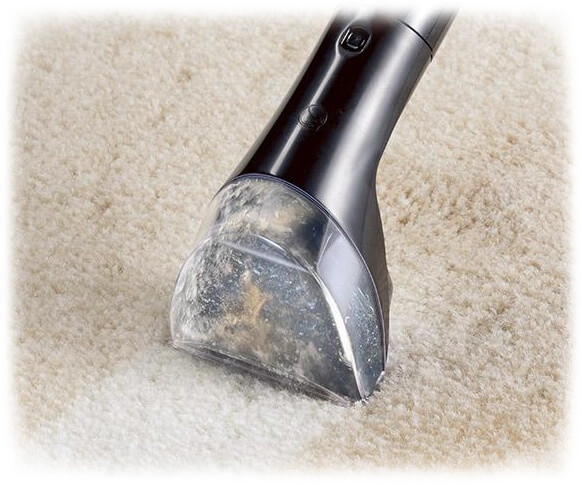 Dirty water will be filtered once before entering the machine by a pet hair collector, preventing the hair to enter the machine.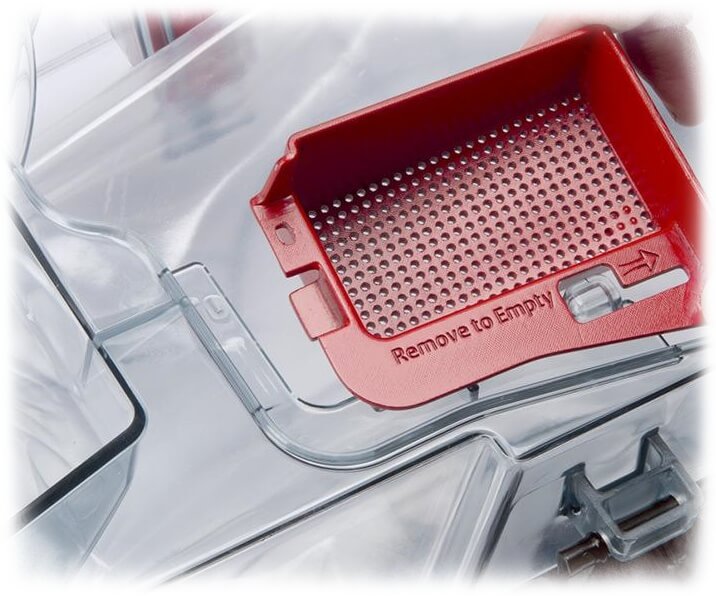 Specification of the Bissell Deepclean 36Z9
Dimension: 23.5 x 14 x 25 inches
Power rating: 7 amps
Cleaning path width: 12 inches
Brush system: 12 Row Dual Dirtlifter
Surrounding suction: yes
Edge sweeper: yes
Heatwave technology: yes
Heater: no
Hose length: 9 ft
Cord: 22 ft
Tools: self-contained tool and 3'' tough stain tool
Warranty: 3 years
Performance of Bissell Deepclean Deluxe 36Z9
You can check for cleaning results of this model below.

Pros and cons of Bissell Deepclean Deluxe 36Z9
Pros
As stated, it is a great carpet cleaning machine, especially for the home with pet hair and stains.
It has a big water tank, a great brush system, a strong motor, and exclusive attachments.
Nonetheless, this model is backed by Bissell for 3 years, ensuring you to use the machine for a long time with helpful support.
Cons
It is a bit heavy, which is 25 lbs., in fact, all models in Bissell Deepclean series are heavier than Bissell Proheat series (which is about 18 lbs.). Therefore users who need to move upstairs and downstairs should consider this downside.
It is also more expensive than a casual upright carpet cleaner. However, Bissell Deepclean is the only series which has the stain trapper tool and pet hair basket.
Where to buy
Bissell Deepclean Deluxe 36Z9 is offered on Bissell website and amazon.com website. However, the price on amazon.com is cheaper.
Bissell Deepclean Deluxe 36Z9 manual
You can check for the manual of this model here.
Conclusion
Bissell Deepclean Deluxe 36Z9 is an excellent cleaning machine, works amazingly well but a bit heavy. It is a great choice if you have dogs that shed hairs daily on the carpet.
Further reading for you
Bissell 36Z9 vs 17N4: Compare 2 Bissell Deepclean models to see which one is the better option for you
Today's deals: Discover best rated models on discounts
Summary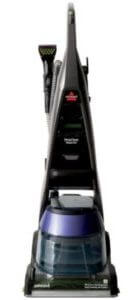 Article Name
Bissell DeepClean Deluxe Pet carpet cleaner, 36Z9 review
Description
Bissell DeepClean Deluxe 36Z9 carpet cleaner is an exclusive model for pet stain and pet hair that you should check if you have dog and cat at home. Read in-depth reviews of this model.
Author
Publisher Name
Publisher Logo